Library Announcements
What's happening at the library?
Greenville Public Library Holiday Closing Schedule
Memorial Day
Independence Day
Labor Day
Veterans' Day
Thanksgiving Day and the day after
Christmas Eve
Christmas Day
New Year's Eve
New Year's Day
Dr. Martin Luther King's Day
Presidents' Day
The Greenville Public Library may be closed due to inclement weather, such as snow, ice, or a tornado warning. In the event that our city's tornado sirens go off, staff and any patrons in the building will be taken to our designated shelter in the basement. We will be following instructions from weather sources on when the tornado warning is over. Please call the library at (618) 664-3115 with any questions involving closings.
Phase 5 Procedures at the Library
The Greenville Library Board, with recommendations from the Illinois Department of Public Health and the Bond County Health Department, is taking all possible steps to open safely and responsibly. The Greenville Library Board of Trustees met on Thursday, June 10th and passed the proposed next steps in the library's COVID-19 mitigations beginning Friday, June 11th, 2021 until the Board deems otherwise. Library staff will wipe down high-touch surfaces throughout the day. Please be aware that there are still procedures in place:
Masks are required at all times when in the building and at library events. We ask that you use hand sanitizer.
Maintain social distancing while in the library.
Materials that are returned in the building will be checked in immediately, wiped down and allowed to dry, then put away.
Return to 40 item limit per household.
Due to social distancing, there are two public access computers available. Computer use is first-come, first-served. Reservations can be made by calling the library and scheduling a time. Library staff will wipe down computer stations after every use.
Curbside appointments are available for patrons who would like to continue the service.
Curbside appointments are available for patrons who are unable to wear masks.
Tables and chairs are available with social distancing the responsibility of the group.
The restroom is open to the public. Library staff will be responsible to wipe down touchpoints throughout the day.
Escape Room events are allowed to resume following the above guidelines.
Library Hours as of March 29th, 2021
Monday: 10 am to 11:50 am, 1 pm to 4:30 pm
Tuesday: 10 am to 11:50 am, 1 pm to 4:30 pm
Wednesday: 10 am to 11:50 am, 1 pm to 4:30 pm, 5 pm to 6:50 pm
Thursday: 10 am to 11:50 am, 1 pm to 4:30 pm, 5 pm to 6:50 pm
Friday: 10 am to 11:50 am, 1 pm to 4:30 pm
Saturday: 9 am to 11:50 am
Christmas Coloring Contest
If you are interested in coloring and winning prizes, enter Greenville Public Library's Christmas Coloring Contest! There are three age groups: 0 - 6, 7 - 10, and 11 - 13. Ask for a color sheet at the circulation desk or print one from our website, the city's website, or WGEL's website. There are different color sheets for each group, so be sure to print the correct one. Entries need to be received no later than Friday, December 17th. Please put your name and phone number on a separate piece of paper, so the judges won't know who colored it. A winner from each group will receive a gingerbread house kit.
Click here for the 0 - 6 Color Sheet
Click here for the 7 - 10 Color Sheet
Click here for the 11 - 13 Color Sheet
Mitten Tree Day
Mitten Tree Day most likely came to be as a result of Candace Christiansen's children's book, Mitten Tree. It is a book about an elderly lady who watches children gathering at a bus stop each morning. She notices a boy that doesn't have mittens and decides she will knit some and put them in a nearby evergreen tree for him to find. Mitten Tree Day is celebrated every year on December 6th. The library will be collecting mittens to deliver to the elementary school for children in need.
Christmas Craft at the Library
The Greenville Public Library will have a craft table set up for patrons to make a Christmas craft. The craft can be a table decoration or turned into a tree ornament. Visit the library Wednesday, December 8th through Saturday, December 11th to make a craft.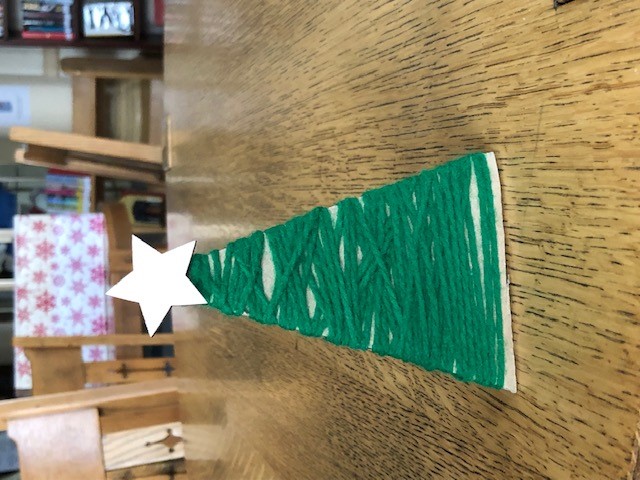 Christmas Card Day
Each year around this time, friends and families begin mailing their holiday cards. Christmas Card Day on December 9th serves as a reminder to get your stamps, envelopes, and cards together so you can share your holiday cheer. Come to the library on Thursday, December 9th to make a Christmas card.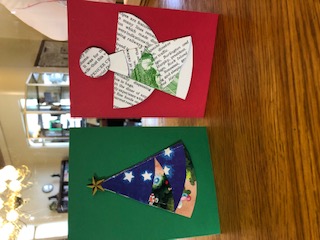 Bake Cookies Day
Bake Cookies Day is on December 18, just in time for Christmas. So get baking and fill your house with the aroma of warm, soft cookies baked to perfection. Check out material on Saturday, December 18th and receive a bag of sugar cookie mix and a cookie cutter. Thanks to The FNB Community Bank for sponsoring the holiday.
New Playaway Collection
The Greenville Public Library is pleased to announce a new in-house collection for young readers. Thanks to an Illinois State Library Grant, we were able to purchase Playaways. The Grant was awarded to the Greenville Public Library in the amount of $2750. We were able to buy a total of 55 Playaways for juveniles and teens to enjoy. Playaway is the pre-loaded audiobook that gives patrons the portability and freedom to listen to audiobooks anytime, anywhere. Playaway's universal audio jack is compatible with headphones and auxiliary cords. If earbuds are needed, a pair may be purchased at the library for 50 cents. Click here to see a list of the Playaways that are in our collection. If we don't have the title you are looking for, it may be available through interlibrary loan.

Escape the Library
Are you looking for something fun to do in Greenville? The Library is offering three "Escape Room" activities--a general theme, a Harry Potter theme, and a pirate theme. The programs are appropriate for groups of 6 to 10 participants (junior high age to adults). Your group will work together to find clues, solve puzzles, and open locks in order to "escape." All that is required is that you call the Director, Jo Keillor, at the Library to schedule a time for your group and let her know which theme your group prefers. There is a $25 charge per group. (We only accept cash or check payments.) We hope you schedule an appointment and enjoy your time at the library. (posted Dec. 2018)
The Greenville Library Board members voted to allow Escape Room events to resume starting on Friday, June 11th, as part of the state's Restore Illinois Phase 5 plan. Participants are required to follow the library's Phase 5 policies.
Attention Patrons
Starting in November 2021, everyone will need to provide a driver's license and a second proof of identity/residency to renew existing accounts. We will require all the primary account holders to show all required information. We will be ascertaining whether the address provided is in the library's service area, even if the cardholder has been a Greenville cardholder for several years. We ask that Nonresident patrons who own property in town, bring tax information for the owned property. We hope to have current, up-to-date information for all of our accounts. If there are any account charges at the time of renewal, regardless of amount, they will need to be paid in full. Thank you for assisting us in this endeavor. (updated Nov. 2021)
New at the Library: Hotspots
We are pleased to announce that the Greenville Public Library now has five hotspots available for check out. Thanks to a generous donor, you can take WiFi with you. Greenville Library patrons may check one out or add their names to a waiting list if none are available. There are a few guidelines associated with our new hotspots:
Available only for Greenville cardholders (age 18 and older).
Households may check out one hotspot per month. (30 days)
One week check out period.
$5.00 per day overdue.
After 3 days of being overdue, the hotspot will be deactivated and a $200 charge will be billed to the patron.
DO NOT return in the drop box. If put in the drop box, there will be a $5.00 charge.
$200 replacement cost for lost or damaged devices.
If you are notified that one is available, the device must be picked up within two days. On the third day, the next person on the list will be notified. (posted Dec. 2019)